DMC = Disassembled Motor Car
Quote of the Week:
"Uh... Dave... Are you going to clean up the mess from Mount St. DeLorean over there?" -My Neighbor, Sheila
Home
Prev Week 33 Next
June 4-10, 2000
So, today's events are already being referred to by my neighbors as "The Great Mildred Street Polyester Explosion"... and it's a mess, indeed.

Confused? Well, maybe I had better back up a bit.

I decided to charge up my air conditioning system today. Now let me start by saying that I hate air conditioning; as it always gives me a headache. I figure that if you want to cool down, well, that's what windows are for. But, with the DeLorean, I'm told air conditioning is something of a necessity. So, I bought all the remaining parts I'd need this morning. I took some good notes with part numbers and procedures for a future post on retrofitting your D to R134a. However, I'll save that for another day.

I charged up the system, and it was blowing nice cold air, and the pressure on both sides was just fine. One little problem went unnoticed, though. The bolt that I used to hold the clamp on the back of the compressor was about 1/2" too short, and didn't thread into the casing very deeply. What resulted was an explosion with all the subtlety and grace of Mt. St. Helens. A geyser of polyester oil shot about 30 feet in the air, wafting gently on the wind to settle on pretty much every car in my neighborhood. It also covered my entire engine and interior with a fine coat of oil. Sigggghhhhhh....

The explosion did little other damage, save for the back of the compressor. The mounting boss between the suction and discharge side on the rear of the compressor was ripped right off. I guess I won't have air for a little while.

If anyone needs me, I'll be washing my neighbors' cars.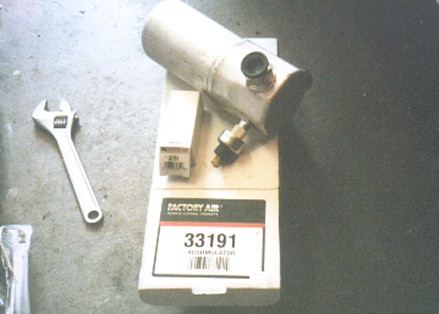 Costs for Week 33:

Date
Purchase
Store
Price
04-Jun-00
A/C Check gauge
Pep Boys
4.99
04-Jun-00
A/C Stop leak
Pep Boys
3.99
04-Jun-00
A/C Thermometer
Pep Boys
4.99
04-Jun-00
A/C Duct cleaner
Pep Boys
3.49
05-Jun-00
105845 A/C Clamp
Specialty Automotive
5.00
06-Jun-00
Bolts, nuts, washers
Pep Boys
0.95
06-Jun-00
A/C Switch
Pep Boys
11.49
06-Jun-00
Orifice Tube
Pep Boys
2.49
06-Jun-00
A/C Pulley bearing
Pep Boys
13.14
06-Jun-00
A/C Accumulator
Pep Boys
49.99
06-Jun-00
R-134a, six cans
Pep Boys
29.95
06-Jun-00
Ester oil, 2 cans
Pep Boys
11.98
06-Jun-00
R-134a leak detector and sealer
Pep Boys
3.99
06-Jun-00
R-134a Maxi Cool
Pep Boys
6.99

Week 33 Total:

153.43

Running Total:
12,074.24
| | | | |
| --- | --- | --- | --- |
| Date | Purchase | Store | Price |
| | | Week 33 Total | $ |
| | | | |
| | | Running Total | $ |
Copyright © ProjectVixen.com. All rights reserved.
Opinions expressed in posts reflect the views of their respective authors.
DMCForum Mailing List Archive DMCNews Mailing List Archive DMC-UK Mailing List Archive