Wow... A whole year since my last update.
Many of you have emailed to ask what I've been doing on the car recently. The answer is simply "nothing". Yes, nothing.
This may come as a surprise to some people, but this car IS just a car, after all, and does come second to a great number of other things in my life. I have an absolutely fantastic girlfriend, friends, other cars, a fish tank, and (until recently) a job.
While I appreciate getting emails, I'm shocked that I have received emails saying that I "don't deserve to own" my car if I haven't worked on it in a while. Not to be arrogant, but just who in the hell do you think you are? Get a life, and don't depend on some anonymous guy's update to an insignificant little car-related website to get enjoyment out of your existence. I'll work on my car when I feel like it, and sorry -- I don't owe you nor anybody else any updates.
Now that that's out of my system, I can move on.
We went to Memphis in "Prowler" (my name for my 1986 Mercury Grand Marquis land yacht), and had a blast. Here are our pictures.
I did fix the oil leak from the rocker arm cover last July -- just used some form-a-gasket and it sealed up nicely. From what I understand, it's common for them to leak a little when using only the paper gasket. The tend to warp with heat over time, and as you might remember, my engine came from a brand-new car destroyed by an engine fire. That warped the cover enough to cause the big leak.
In March, I helped Dan Plakosh put a new engine and transmission in his car. It went well, but took three days. Talk about tired...
Also, here are some pictures of our little DeLorean tech session help on May 31st at Dom Diaz's house. In attendance were Dom and Melissa Diaz, Dan and Judy Plakosh, Jeff Porter, Chris Bowman, Pete Lucas, and me. Most of the pictures are of Dom's and Pete's cars... I didn't bring mine to the session.
Photos above by Jeff Porter
Other than that, I did write a couple of tech articles for DMCNews.
Rewinding Door Lock Solenoids
Retrofitting R134A Procedures
How (not) to Buy a Cheap Delorean
... and made a page to help folks find:
138db DeLorean Replacement Horns
I'll have a bit more time to work on the car a bit. At the beginning of May, I got downsized by the company I have worked at for the last seven years. So in-between looking for a job and studying for my Cisco CCNA exam, I'll be doing some more work on the car. Hopefully, I'll post more regular updates. =)
Oh... and if anyone knows of a good AMC Gremlin for sale (preferably green), please let me know. My girlfriend Juley is looking for one...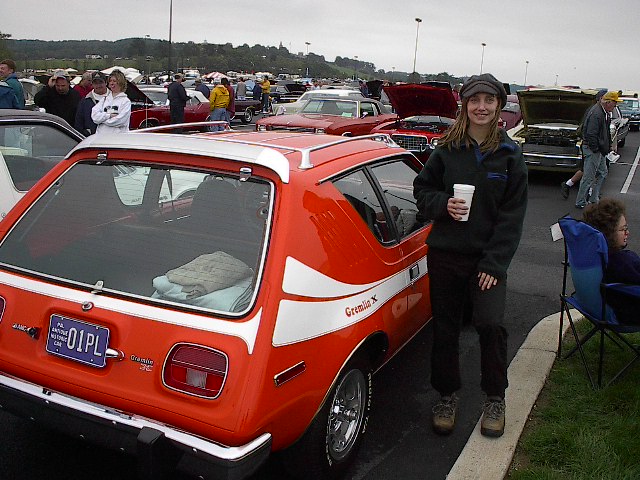 UPDATE! 18 July 2003
Juley did find a nice Gremlin. Check out http://www.AMCGremlin.com to see the pictures.